EVENT NEWS . . . NEW RUNNING EVENT:  THE PHILLY DOUBLE!  Back on My Feet 5 Miler and the Run for Clean Air Council are teaming up to offer you the perfect Broad Street Run training series.  CLICK HERE TO VIEW THEIR EVENT INFO. FORM, WITH ENTRY LINKS.  

To Receive a Bid for SERVICES FORM, click
HERE. 
From cross country, to metropolitan based courses we bring the same level of racing excellence across all venues. LINMARK Sports is an authorized ChronoTrack timing company. 
Built in to our services is the ability to have paperless entry with our on-site notebooks, plus the option for the entrant to also charge their entry fee.  
Entry process & multi-level media results are all posted, on-going during events, in concert with ChronoTrack Live.  Includes the texting of participants results to their cell phone on event day. 
Start to Finish video of your event finish posted on YouTube with the link available with your posted results.
 Please contact us for in-dept info. on the ease to present this time saving, efficient options to your pre and post entry process.
We're ready for walk-up entrants!
MULTI-EVENTS
Swim check-in for participants accountability is a priority to assure the highest level of event safety from start to finish. Add to your event options with relay and team division. We offer in-depth assistance for race set-up, promotion, and development, in addition to the highest level of technical timing, and results as athletes finish. 
M
any events have our Chrome notebooks on site to just type in their race number, and view their individual results minutes after they finish!  Plus, results are posted on-going to our website's Results page on event day, and texted to entrants cell phones from event site. 
FEATURED EVENTS
Kick off the New Year with the 
Tour De Cape Bike Tours Postponed Until January 26
5K Run and Kid/Family Ride Remain on January 19

With the forecast calling for rain and strong wind this Sunday, January 20, the Bike Tour portion of the 2019 Tour De Cape event has been officially moved to Saturday, January 26. All event elements including start times, lunch, rest stops and optional speed zone will remain the same on the new date of January 26. Other Tour De Cape activities, including the Pre-Event Packet Pick-Up Celebration at Cape Harbour on Friday, January 18 from 5-8 p.m. and the 5K Run and Kids/Family Ride the morning of Saturday, January 19, will remain on the original dates as scheduled.Tour DE CAPE in beautiful Cape Coral, FL. 
Jan. 18-19, 2019, Cape Harbour Resort.  
>Click Here to View Event Web Site and All Options Available For A Fun,
Exciting Week-end With Something For Everyone!
Friday, January 18, 2019  Pre-event packet pick-up celebration at Cape Harbour   5:00 - 8:00pm
The weekend begins with a kick-off celebration. Participants can pick up packets, maps, and t-shirts. Enjoy a great start to the weekend at Fathoms Restaurant & Bar for a Friday night registration special! Show your event registration and receive a discount at Fathom's and The French Press.   Each event offers post race buffets. 
Saturday, January 19, 2019: 5K Run/Walk  
​Sunday, January 26, 2019:  Tour De Cape Bike Rides.  Sunday's bike tours offer varied routes from 15, 30, 62, and 100 mile courses in the west and north sections of Cape Coral. The event provides a continental breakfast, lunch, on route rest stations with snacks and beverages, SAG vehicles, Police support, and route maps.  
___________________________________________________________________________________
3/2/2019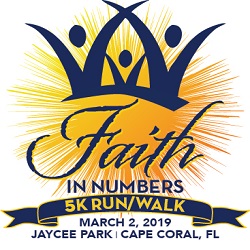 FAITH IN NUMBERS 5K,  Jaycee Park, Cape Coral, FL  ON-LINE ENTRY TO OPEN SHORTLY    EVENT WEBSITE  - Event Info.
 St. Katharine Drexel Catholic Church invites you to participate in "Faith in Numbers 5K Fun Run/Walk" – a celebration of unity and solidarity among our southwest Florida faith communities.  

In light of the recent attack on the Jewish Synagogue in Pittsburgh, we were moved to unify the faith community in Cape Coral, and we invite all of our neighboring faith communities to join with the desire and commitment to heal and live in mutual respect and harmony.  The run and walk will be supported by the city, with official time keeping, and advertised and sponsored by supporting businesses to keep the cost of registration at a minimal to encourage families, youth groups, and serious runners to participate.     
_____________________________________
>>CLICK HERE TO VIEW DETAILED INFO. FOR ALL ON-GOING LISTED: EVENTS.<<
ANNOUNCEMENTS:   Many 2019 events are now being posted on the calendar Events Page!

GREAT CHESAPEAKE BAY SWIM WILL BE CONDUCTED JUNE 9, 2019.  GCBS 2019 4.4 LOTTERY NAME SIGN-UP  IS NOW CLOSED. Round 1 Name selections conducted Wed. Jan. 9, 2019. 
 
PLEASE VISIT THE EVENTS Calendar Page   
 for all UPCOMING EVENTS.